Children's Dentistry in Hoppers Crossing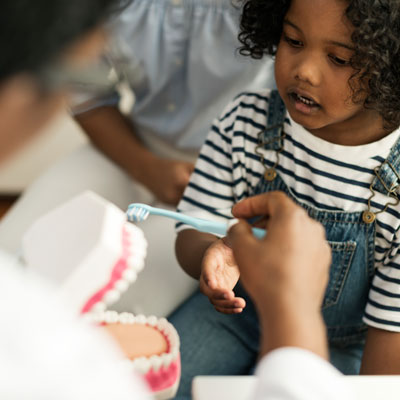 Early dental care can help your child avoid dental problems and set up a program for healthier smiles as they get older. For your family, that means finding a child-friendly dentist who creates a warm and welcoming atmosphere for children of all ages. That's exactly what you'll find at Hoppers Crossing Dental.
"Children's dentistry is the start of the learning curve for children—for prevention and to look after their teeth for life. We like to educate parents and kids about oral hygiene habits and diet, fluoride treatment, and fissure sealants. Our objective is to do whatever we can to prevent the formation of any disease so children can have a healthy mouth for life," said Dr Nitsopoulos (Dentist).
Dental Care for School Age Children
Regular checkups allow us to monitor the development of your child's smile and intervene when issues are small. As a parent, you can encourage your child to develop healthy habits, including brushing twice daily and flossing once a day. We recommend kids use a battery powered electric toothbrush, as research has shown that it does a better job of cleaning the teeth.
Encourage your child to drink plenty of water, and avoid offering rewards that contain sugar. Although sweets can increase your risk of tooth decay, it is more of how often they are consumed than how much is actually eaten that is the true risk.
As your child's permanent molars begin to erupt, we will recommend fissure sealants to make them easier to clean. These protective coatings also reduce the risk of cavities.
If your child is active in athletic activities, they will need to wear a protective mouthguard. This helps reduce the risk of dental trauma and possibly even concussion.
Child Dental Benefits Schedule
Your children might be eligible for up to $1000 worth of Medicare-funded treatment over a two-year period. Benefits cover a range of services, including examinations, X-rays, cleaning, fissure sealing, fillings, root canals and extractions. Please call us if you have any questions regarding this government-funded program.
Frequently Asked Questions
When should I bring my child in for their first dental visit?
We recommend it as soon as the first tooth erupts. This visit is an initial introduction to the dentist.
How often should I bring my child in for a visit?
We recommend you bring them in for a regular checkup every six months. The checkup will include a scale and clean and fluoride treatment.
What do you usually screen for when doing an exam?
We check to ensure that the teeth and gums are healthy, and there's no formation of caries. We also assess the development of the teeth and jaws for any potential orthodontic issues in the future.
What should I do if my child is nervous or anxious about their visit?
It's our experience that the younger the children are when the parents bring them into the practice, the less nervous the patients are. If kids start early on a prevention program and they don't get any dental disease (e.g. caries/holes) they are often enthusiastic and happy to come to the dentist!
What sets your dental practice apart from others?
We have a philosophy of treating children in a gentle, caring and understanding manner. Many of our team members are parents, so we understand dental visits from the parents' perspective. We also have three oral health therapists in the practice who specialise in providing children's dental care.
Do you have an emergency?
If a tooth is chipped or knocked out, contact us immediately. We'll talk you through your possible options and try to book you in for a same-day emergency appointment.
CONTACT US »

Children's Dentist Hoppers Crossing, Werribee VIC | (03) 9748 5555