Children's Dentistry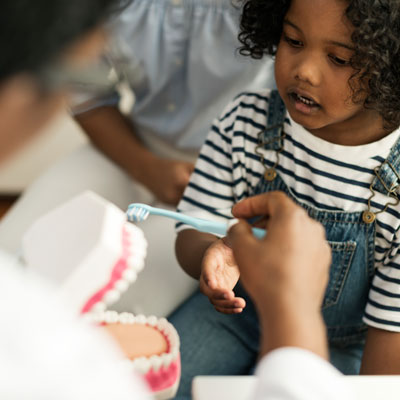 Early dental care can help your child avoid unwanted tooth problems and healthier smiles as adults. For your family, that means finding a child-friendly dentist who creates a warm and welcoming atmosphere for children of all ages. That's just what you'll find at Hoppers Crossing Dental.
Dental Care for School Age Children
Regular checkups allow us to monitor the development of your child's smile and intervene when issues are small. As a parent, you can encourage your child to develop healthy habits including brushing twice daily and flossing once a day. Encourage your child to drink plenty of water and avoid offering rewards that contain sugar. Although sweets can increase your risk of tooth decay, it is more of how often they are consumed than how much is actually eaten that is the true risk.
As your child's permanent molars begin to erupt, we will recommend fissure sealants to make them easier to clean. These protective coatings also reduce the risk of cavities.
If your child is active in athletic activities, they will need to wear a protective mouthguard. This helps to reduce the risk of dental trauma and possibly even concussion.
Child Dental Benefits Schedule
Your children might be eligible for up to $1000 worth of Medicare-funded treatment over a two-year period. Benefits cover a range of services including examinations, x-rays, cleaning, fissure sealing, fillings, root canals and extractions.
Do you have an emergency?
If a tooth is chipped or knocked out, contact us immediately. We'll talk you through your possible options and try to book you in for  a same day emergency appointment.
CONTACT US »

Children's Dentist Hoppers Crossing, Werribee VIC | (03) 9748 5555