Invisalign in Hoppers Crossing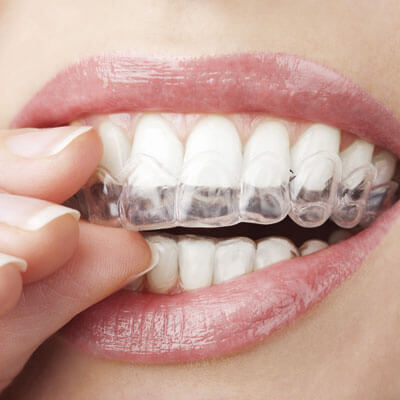 Do you avoid smiling in photos or in social settings because your teeth are crooked or gapped? Maybe you wish you had gotten braces when you were younger or your teeth may have moved after braces as a kid. The good news is it's never too late to straighten your smile. And with Invisalign treatment, which has been used by more than 3 million people worldwide, you can do so discreetly!
Virtually Invisible
Many adults seeking to align their smile don't like the look of those metal "train track" braces. Can you blame them? That's why Invisalign treatment is so popular. Utilising thin, clear, custom-made aligners, instead of braces and wires,
Invisalign treatment is a popular and discreet alternative to traditional braces. Most people won't be able to tell you are wearing the aligners. Another benefit is that you can remove them to brush your teeth or attend a special occasion.
How Does It Work?
You'll get a straighter smile with Invisalign by gradually shifting your teeth into the desired position. Hoppers Crossing Dental will send you home with several trays at a time, so you can change them out on your own, every two weeks. Invisalign treatment is the perfect option for busy people!
Benefits of Invisalign
Our patients love the added benefits that these "invisible" braces have to offer.
Remove them and enjoy all your favourite foods.
Easier home care (brushing and flossing)
Fewer, shorter trips to the dentist
Clear orthodontics that are easily unnoticeable
Our highly skilled and experienced owner, Dr Nitsopoulos (Dentist), has been providing orthodontic treatment since 1992. He holds certificates in orthodontics and Invisalign treatment. Instead of wearing conventional brackets and wires, you can have Dr Nitsopoulos align your teeth with the clear Invisalign system. "They snap right over your teeth and are perfect for people who are hesitant about traditional orthodontic treatment," he said.
Frequently Asked Questions
Using either an impression technique or advanced 3D technology, we will take a quick and precise scan of your teeth, and then create a custom-crafted treatment plan. Customised aligners will be fabricated for each stage. Simply change your aligners every two weeks to help your teeth gradually move.
Just as each patient is different, so is Invisalign treatment. The average time, however, is between 12-14 months, but it can range from six months to two years.
Is Invisalign treatment painful?
No, the treatment is never considered painful. Overall, the treatment is comfortable, with most people reporting a feeling of pressure and minor discomfort at the beginning of each new phase.
What are the aligners made of?
Your aligners are crafted from medical-grade, non-toxic plastic. They have a smooth and practically invisible appearance.
Will my speech be affected by wearing the aligners?
You may notice that it takes a bit of time to get used to your aligners. Specifically, you might detect a lisp for a day or two, but it will quickly pass. It's your tongue getting used to having the aligners in your mouth.
How often do I have to see the dentist during treatment?
Once your treatment has started, it's necessary to schedule regular appointments with your dentist. These visits typically occur every 6-8 weeks. The reason why you will need to come in is to ensure that your Invisalign treatment is progressing as planned. You also need to maintain your routine exams and hygiene appointments.
How old does a person have to be to get Invisalign treatment?
In most cases, teens 14 and older are eligible. The primary requirement is that their 2nd molars have fully erupted.
How much does the treatment cost?
The cost of Invisalign treatment is similar to conventional braces. When you come in for a consultation, we will provide you with the anticipated cost of your treatment based on your specific needs. There are some factors that will determine the cost. These include treatment time, the complexity of your case, and treatment goals.
Does insurance cover the cost?
If your insurance policy covers orthodontics, it will likely cover your Invisalign treatment. We recommend you check your policy and ask your provider for more information.
Crowded or Crooked Teeth?
Do you have a gap or cross bite? Straightening them can make it easier to prevent cavities or worn down bites. Contact us today to book a consultation.
CONTACT US »

Invisalign Hoppers Crossing, Werribee VIC | (03) 9748 5555