Dr George Nitsopoulos (Dentist)
Hoppers Crossing Dental Owner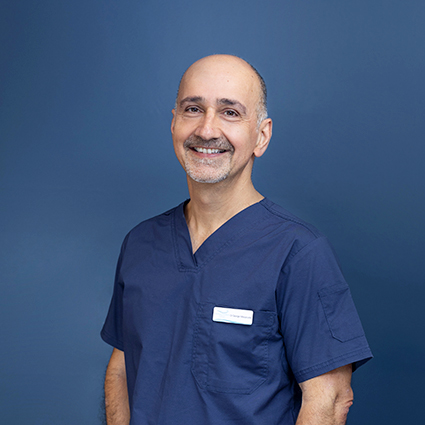 Since high school, Dr Nitsopoulos always wanted to do something in the health field. Dentistry was the perfect choice for him, as it provided an outlet to utilise both science and art.  As a family dentist, he feels it's a privilege to help people get out of pain and make their smile healthy in a calm and relaxed manner.
Dentistry requires mastery of techniques and knowledge, but allows me to do something even more important…give people their smiles back."
George completed his Bachelor of Dental Science at the University of Melbourne in 1987. He began working in Hoppers Crossing immediately after graduation and started Hoppers Crossing Dental in 1989.
Dr George says he was quite a nervous dental patient as a kid. It was this background that motivated him to make sure that other people could have a comfortable experience.
Since dental school, Dr Nitsopoulos has found the preventative side of study the most enjoyable. He believes a focus on preventative care and regular visits can avoid many problems. Dr George gains immense satisfaction from specialised treatments involved in the treatment of gum disease and honing his artistic skills utilised in cosmetic dentistry.
Orthodontics and Invisalign accreditation

Dr George has taken a special interest in advanced dental techniques. He is a member of the Australian Society of Implant Dentistry and holds certificates in orthodontics and Invisalign®. Dr George has completed several post graduate courses in Orthodontics and Implants. Additionally, he is a SomnoMed accredited provider, which allows him to offer snoring appliances for our patients with sleep apnoea.
EXPLORE OUR SERVICES »
Keeping Fit and Healthy
There's nothing that Dr Nitsopoulos cherishes more than watching his two young daughters growing up. He also stays quite active — which includes regular trips to the gym, long walks, playing indoor soccer and going to the beach as often as possible.
New Patients Welcome
Hoppers Crossing Dental is open late and accepts all health funds. Book your visit with Dr Nitsopoulos today. We're open late and offer same-day appointments. Contact us now to schedule.

Dr George Nitsopoulos | (03) 9748 5555