Dental Implants
Smile Solutions in Hoppers Crossing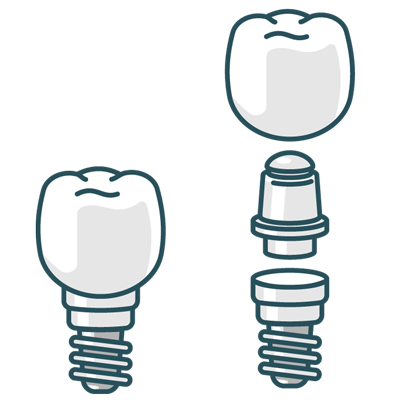 If you have a missing tooth, dental implants offer a modern alternative to traditional bridges and partial dentures when it comes to restoring your smile and regaining self-confidence. Unlike more conventional types of rehabilitative treatments, implants function independently of other teeth. They also tend to last much longer, due to their design.
What Are Dental Implants?
An implant is a biocompatible, artificial tooth root that is set into the mouth and secured into the bone, similar to natural teeth. After the new bone has integrated with the implant and fused it in place, an abutment and fixed restoration (such as a crown, bridge or denture) are affixed to the top of it.
Depending on your oral health status and smile needs, the implant experience usually requires 2-3 appointments over the span of 3-6 months to complete at Hoppers Crossing Dental.
Advantages of Choosing Dental Implants
Selecting implants provides many benefits for our patients with missing teeth. Aside from being one of the longest lasting treatments in dentistry, modern implants offer:
Full mouth reconstruction and rehabilitation for multiple missing teeth
The adding of fullness to the facial profile, where teeth have been lost
Optimal chewing and speech capabilities
A secure alternative to removable prosthetics
An aesthetic advantage for missing tooth concerns
Stabilisation of removable dentures for a secure fit
The ability to maintain natural spacing and tooth alignment of other teeth in the mouth
Where treatments such as bridges call for reshaping adjacent teeth to fortify the restoration, implants are secured by the jaw, preventing the need for structural changes in healthy neighbouring teeth. This feature prevents additional treatments to otherwise healthy teeth, making implants a less-invasive alternative to more traditional types of restorative treatments.
Book a Free Consultation to Find Out!
Are you a candidate? If you're considering dental implants to replace your missing tooth, we invite you to schedule a complimentary consultation to find out if they're right for you. We'll be happy to answer any questions that you may have.
CONTACT US »
* Any surgical or invasive procedure carries risks. Before proceeding, you should seek a second opinion from an appropriately qualified health practitioner.

Dental Implants Hoppers Crossing, Werribee VIC | (03) 9748 5555