Teeth Whitening in Hoppers Crossing
Years of stubborn stains can tarnish one's teeth and crush self-confidence. The good news is you can brighten your smile and perk up your poise with professional teeth whitening. At Hoppers Crossing Dental, we can help you attain the smile of your dreams.
Why Should I Choose Professional Teeth Whitening?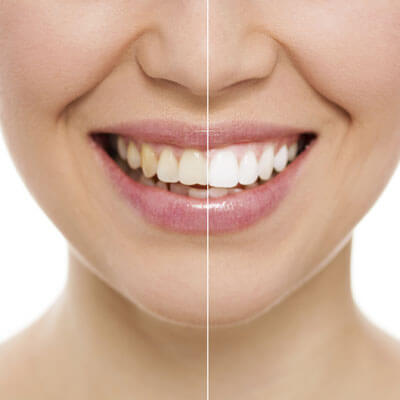 Walk into any drug store, and you'll find a broad array of teeth whitening products such as strips and toothpaste. While they may brighten your teeth to a degree, we believe that professional teeth whitening is the preferred approach. That's because your dentist will first evaluate your mouth to ensure it's healthy before whitening takes place.
Additionally, your dentist is highly informed about the various types of whitening products on the market and the results you may get with each kind.
The Zoom! Advantage
We use Zoom! teeth whitening in our practice because it gets fantastic consistent results plus it has little sensitivity compared to some of the other whitening treatments available today. It works fast due to LED technology, you can get a brilliant smile in about an hour. You can whiten your teeth during your lunch break allowing you to enhance your appearance quickly and conveniently.
We understand you have better things to do than set aside a big part of your day to enhance your smile. With pola teeth whitening, you can get a megawatt smile in about an hour, making it easy to whiten before or after your workday or during your lunch hour. We're open until 7 pm Wednesdays and Thursdays. Whitening your teeth in the office is much faster than whitening at home, which can take up to two to four weeks.
How long will my results last?

As everyone is different, results may vary from person to person. We recommend that whitening treatment is repeated every six months to a year for best results.
Is teeth whitening safe?

Yes! We would never recommend any products or treatments that were unsafe. According to clinical studies, teeth bleaching with hydrogen peroxide is safe for both teeth and gums when performed properly by a dental professional.
Why did you decide to use Zoom whitening in your practice?

It's a very efficient and effective way to lighten people's teeth, because they can get it done in just one session. Many patients get a very significant whitening improvement, and that happens over a single session versus over 2-4 weeks with a traditional teeth whitening system.
Who is teeth whitening suitable for?

Teeth whitening is appropriate for most people with dark or tarnished teeth that got dark either through the ageing process or genetically, they're just dark. We find we can get a good result for most patients. Of course, there are always a few exceptions.
Should I choose in-chair or take-home whitening?

We offer both options, and there are pros and cons to both. For those with sensitive teeth we prefer to use whitening trays, which are also less expensive. The main disadvantage with Zoom is that some people can get a little bit of sensitivity during the process, but we have ways of minimising sensitivity.
Which form of whitening makes the biggest impact?

With some patients, we do a combination of Zoom in-chair whitening, as well as a take-home kit. Using both is ideal, as you'll experience the benefits of each to get a gleaming bright smile. There is a significant discount if patients elect the ideal in chair whitening with a maintenance at home tray system.
What post-treatment care do you recommend?

To maintain your newly whitened smile, it's important to avoid any food or drink substances that can stain your teeth during the whitening process. Try to minimise drinking coffee, tea and red wine and using tobacco. And avoid eating foods that stain such as berries, tomato sauce and other dark foods.
Can I repeat teeth whitening when the results start to fade?

Yes, some patients need a touch-up every six months, and others every 12 months. The whitening does fade with time and depends on what you eat and drink.
Start your beautiful smile today
Achieve a whiter, brighter smile that exudes confidence by booking an appointment today!
CONTACT US »
* Any surgical or invasive procedure carries risks. Before proceeding, you should seek a second opinion from an appropriately qualified health practitioner.

Teeth Whitening Hoppers Crossing, Werribee VIC | (03) 9748 5555