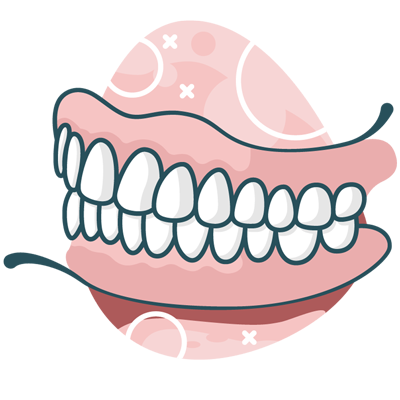 Custom Dentures
A lack of healthy teeth can impact everything from your diet to level of self-confidence. For many people, it means looking for options to replace all or most of their teeth at one time, in an affordable and straightforward manner. That's why Hoppers Crossing Dental offers custom full and partial denture options to our patients. The type of denture that you choose will depend on how many teeth you need to replace, if any teeth need to be extracted, and your long-term goals.
Immediate Dentures
This same-day denture is placed immediately after any teeth have been extracted. It prevents you from having to go without teeth, but it will need to be adjusted a few months later.
If you have healthy teeth, a partial denture snaps into place around them, replacing only the teeth that are missing. They take up less space than a full denture.
Removable "plates" use suction or an adhesive against your soft tissues to stay in place all day long.
A variety of denture designs are available that can snap onto or be permanently screwed onto dental implants. To prevent bone loss or infection, you should clean your denture daily with a soft toothbrush and water or denture cleanser.
Book a visit to Hoppers Crossing Dental at least once or twice a year for us to check the fit of your prosthesis, along with screening for any signs of tissue infection.
Consultations Available
Ready to find out if a denture is right for you? Get more information about dentures by booking a consultation with us!
CONTACT US »

Dentures Hoppers Crossing, Werribee VIC | (03) 9748 5555