Straighten Your Teeth Discreetly With Invisalign®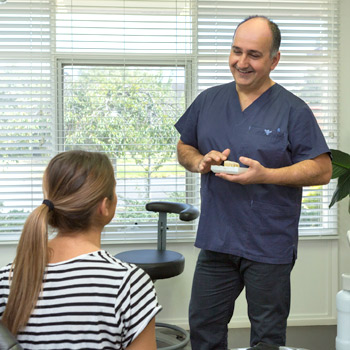 As a dentist serving Hoppers Crossing for 25+years I wanted to find an orthodontic solution for my patients that offered the best features and convenience. We use Invisalign® as our preferred clear aligner solution. In our opinion, it has a superior clear and nearly invisible quality and is extremely comfortable. The aligners are so discreet that your friends and family won't be able to tell you are wearing them. Here are some other advantages:
Flexible – If you have a special event, you can simply take the aligners out
No dietary restrictions – There is no need to worry about the dreaded white spots that can occur with traditional braces
Trusted – Invisalign is a well-respected provider of a teeth-straightening solution that works.
What's Involved?
Dr William and I are accredited to offer Invisalign, and we invite interested patients to contact the practice and ask for a free consultation. We also can discuss our various payment options to spread out the cost of the treatment to suit your budget.
If you'd like to proceed there are just two short appointments left before you receive three sets of individualised aligners. It's important for patients to use the product 22 hours per day so having a comfortable aligner is crucial. Even though it must be worn for most of the day and night, it can be removed for eating and special events. Every two weeks you will change aligners, and at six weeks you will come into the practice to check the progress of the treatment. The treatment can take anywhere from 9-18 months depending on the complexity of the case.
A Happy Invisalign Patient
One of our recent satisfied patients is a woman of approximately 50 years in a prominent corporate position. Due to family circumstances when she was younger and not wanting to wear "train tracks" she had never done anything about her smile. It had always bothered her, hiding from photos and not feeling confident to smile properly. She breezed through the treatment and reported it felt very comfortable and convenient.
At the conclusion of her treatment, I gave her a bit of whitening. She was emotional about the finished result and felt appreciative of her new beautiful smile. Already confident, she reported she felt even better and didn't realise how much her crooked teeth had affected her previously.
Committed to providing gentle, high-quality care, we love to help patients experience the confidence-boosting effects of a beautiful, straight smile. Take advantage of the free consultation and find out if Invisalign is right for you!